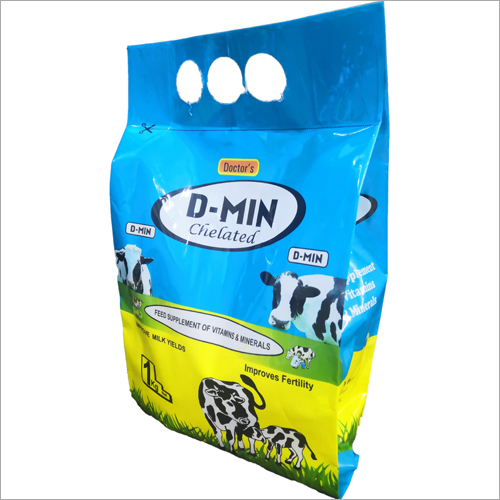 D Min
Product Description
To improve the health of the animals, increase their reproduction as well as milk production, use our 100 % effective Chelated D-MIN Powder. We are known as the chief Manufacturer, Exporter, and Supplier of Chelated D-MIN Powder in India. Our Chelated D-MIN Powder is enriched with copper probiotics and amino acids.
Area Specific Chelated Nutri-Vet Powder
Meets the region wise specific nutritional requirement of dairy animals
Avoid mineral toxicity to animals
Alleviates promptly the precise nutritional disorders of animals
Prevents wastage of minerals and reduce cost of milk production
Benefits
Corrects specific mineral deficiencies of dairy animals
Optimizes milk production, cures infertility
Improve the reproductive performance of milky animals
Anoestrus & repeat breeding
Delayed sexual maturity
Prevents early embrynic death
Helps to improve conception rate
Improves the semen quality in mails

Dosage : Cattle, Buffaloes & Camels : 50 gm daily in feed sheep, Goats & Calves : 10-15 gm Dialy 1 kg. of D-MIN my be mixed in 100 kg of feed


Composition :
Nutritional Value Per kg. contains : Vitamin A 8, 00000 IU, Vitamin D3 1, 00000 IU, Vitamin E (F.G.) 800 mg. Niacinamide 1%, L-Lysine Mono HCI0.44%, DL-Methionine 0.2% Saccharomyces Cerevisiate 250 billion C.F.U., Calcium 40%, Phosphorus 16.5%, Iron 0.5%, Lodine 0.1%, Copper 0.5%, Cobalt 0.02%, Zinc 0.2%, Maganesium 0.2%, Manganese 0.2%, Biotin 500 mg.

Contact Us
Plot No-B-4, 629/1, Kharadian Bazar, Rajan Street, Near Sarafan Bazar, Ludhiana, Punjab, 141008, India
Phone :+918037402856